As far as dry herb consumption goes there are few accessories as impactful as the classic spoon pipe. Spoons have withstood the test of time to become a pillar of the smoking community; their relaxing shape, travel-ready size, and consistent performance make them indispensable for any dry herb user. The best spoon pipes are durable, simply-designed, and add a bit of style to your stash box. Dry herb enthusiasts will appreciate a spoon pipe that won't retain too much ash or expel charred dry herb into their mouth after an unusually large inhale. We're going to take a look at a few of our favorite spoon pipes out right now, while basic in shape each pipe on this list brings a unique twist to the classic spoon pipe while still delivering top-tier performance.
Marley Natural Smoked Glass Spoon Pipe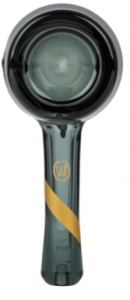 Right off the bat, we have a spoon pipe endorsed by the first family of dry herb, the Marley's. Marley Natural was started in 2014 with the purpose of "integrating nature's goodness with a belief in the positive potential of herb," and they've put out two lines of dry herb smoking accessories to date. Their newest line is the Smoked Glass Collection, which takes classic smoking device silhouettes and adds a modern, island feel to each piece.  Every accessory, including the Smoked Glass Spoon Pipe, is constructed from medical grade borosilicate glass that preserves your dry herb's flavor and helps to ensure durability against wear and tear. Gold accents and a tasteful Marley Natural logo adorning the mouthpiece of the spoon pipe and are included on the other pieces in the collection.
Now let us get into what makes the Smoked Glass Spoon Pipe a fantastic spoon: the large bowl size is capable of holding enough dry herb to satisfy a more-populated-than-usual smoking session, and the wide bowl adds a "levitation" effect when the pipe is set down. The bowl has a ton of volume for your smoke to swirl around and cool before it hits your lungs. At the end of the Smoked Glass Spoon Pipe, a built-in ashcatcher ensures there won't be any burned dry herb shooting into your mouth as you enjoy a deep draw. This piece is definitely in the "classic spoon pipe" family even though it has a few modern tweaks. This blending of old-school shapes with modern features makes the Marley Natural Smoked Glass Spoon Pipe a fantastic addition to your stash box setup.
Genius Pipe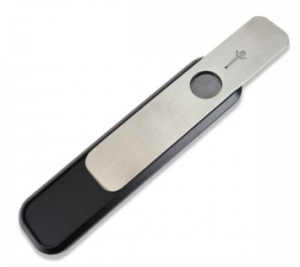 Who said all spoon pipes need to be glass? The Genius Pipe is a bit of a rarity in the spoon world: its a unique design that still somehow functions as a classic spoon pipe. Boasting a completely original design the Genius Pipe is a dry herb spoon that features unmatched ease-of-use. What sets the Genius Pipe apart from all other spoon pipes is the patented Waterless Filtration System. The bottom and top of the interior of the Genius Pipe consists of 2,000 dimples that sift your smoke, collect tar and oil, and cool each hit before reaching your palate. The flat shape of the pipe did throw me off a little at first, but the Genius Pipe functions the same as a spoon; the cover is a bit different than any spoon I've used, but it does help to aid in conserving and putting "pause" on a session.
While most spoon pipes are one piece, the Genius Pipe utilizes three separate pieces to achieve elite cooling and filtering of your smoke. Two plates and a thin face plate that slides to reveal your bowl make up the Genius pipe. These pieces are connected by magnets that let you easily slide the pieces apart when it comes to loading and cleaning.  While one of the more untraditional spoon pipes we've seen, the Genius Pipe hits like a champ and the dimple feature does make a difference in smoke harshness compared to a "traditional" spoon pipe. A nice feature about the Genius Pipe is the top piece's "logo cutout"; this cut out helps to corner your bowl with more accuracy than the classic "just turn down the flame on the Scripto" method some of us have used in the past.
Jane West Spoon Pipe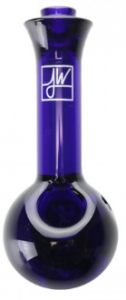 Partnering with GRAV Labs, Jane West set out to design dry herb accessories that keep the modern woman in mind with pieces that are stylish, functional, and discreet without being bland. All of Jane West's products strike a perfect balance between style and substance thanks to their angular, yet soft aesthetic. Jane West broke from the borosilicate glass trend and constructed their pieces from silica glass, which is what gives each piece it's eye-catching color. Silica glass is extremely thermal resistant and won't muddle your dry herb's flavors.
The art deco themed Jane West Spoon Pipe looks like something that could have been found at someone's apartment in the 1970s, in a good way. The ergonomic mouthpiece makes for comfortable draws while a compact bowl and stem keep the Jane West Spoon pocket-friendly. This spoon pipe is one of the better-proportioned pieces I've come across; the bowl size is perfect in relation to the area in which the smoke swirls during an inhale, which gives your draws extra time to cool even in such a concise spoon pipe.
Prometheus Pocket Pipe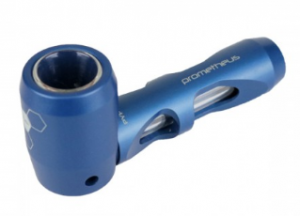 The relationship between technology and old-school smoking devices has melded perfectly in the Prometheus Pocket Pipe. Pyptek (even the name is futuristic!) created a travel-ready pipe constructed from aerospace-grade aluminum that is the toughest possible spoon pipe around. Inside the protective aluminum exoskeleton is medical strength borosilicate glass, which screws into an aluminum shell equipped with a glass bowl. The all glass airpath is insanely thermal resistant and lets your dry herb's flavor fully flourish during your session. No spoon pipe can compare to the durability of the Pyptek Prometheus Pocket Pipe.
Often a spoon pipe that tries to fit into the "durable" category will have poor execution, units can be clunky in hand, and just overall feel too awkward to be worth the extra protection. The Prometheus Pocket Pipe does a fantastic job of holding onto the core functionality and shape of a spoon pipe while adding ultra-modern construction to beef up the durability. Pyptek incorporated advanced geometry to give this piece a comfortable feel when in hand while ensuring it can hold up to most drops and tumbles it might encounter. By committing to the core aspects that made spoon pipes so popular the technology incorporated by Pyptek blends into this piece perfectly.
CONCLUSION
As long as people are enjoying dry herb, there will be a place for spoon pipes in the industry. Old-school glass silhouettes remain the preferred option for old-head smokers, but more modern versions of the spoon pipe have gained a lot of traction with users. By keeping the classic spoon shape, more advanced interpretations of the spoon have been able to flourish thanks to expanding on the capabilities of the spoon pipe which will keep this form of smoking accessory alive for years to come.