In the "before time" of dry herb use, there were limited options to breaking down material. You could either toss a whole nug into your bowl or break up the material with a pair of scissors or fingers to get the job done. These options left users out to dry, the "whole nug" strategy left them with herb that won't burn smooth, while the fingers or scissors choice ended in a sticky mess. Your spoon pipe might be able to fit a large nug of dry herb inside of it but to get the most out of not only your dry herb but your pipe you'll need the right tools.
Grinding your dry herb allows you to more fully fill your spoon pipe's bowl, which gives you more surface area to roast the material. Using a grinder also removes and breaks up any pesky stems that might be lurking in your stash, saving you from inhaling something that won't have any effect. Not grinding your dry herb can lead to your spoon pipe becoming clogged or uneven draws that will put a hamper on your session.
Consistency is another plus of using an herb grinder. A fully filled spoon pipe with ground dry herb will burn much slower than a whole nug or even material broken up by your fingers. To ensure even extraction of the supercharged compounds within your material a grinder is needed. Grinding your material helps to maintain the particular aromas and tastes unique to each type of dry herb, which when used with a classic glass spoon pipe get fully unleashed on the user.
These days there is a multitude of grinders to help you enjoy dry herb the way it was meant to be. From simple two-piecers to more advanced 4-piece units there is a grinder out there to suit any dry herb user's needs. Check out our list of options to see if you need to switch up your prep tools!
Aerospaced 2-Piece Metal Grinder  
We're gonna start off with a classic two-piece grinder from Aerospaced. Constructed from ultra-sturdy lightweight aluminum this grinder can withstand any tumbles or drops you might put it through during its lifespan. The small stature of the Aerospaced 2-Piece Metal Grinder allows for easy on-the-go grinding and it won't take up too much space in your stash box. Equipped with diamond-shaped teeth your dry herb will be perfectly prepped for your next session. An anodized surface prevents the metal from flaking into your dry herb, ensuring a safe grind every time. A magnetic lid makes sure to keep your grinder together during traveling and makes the act of twisting the grinder much easier.
Santa Cruz Shredder 3-Piece Grinder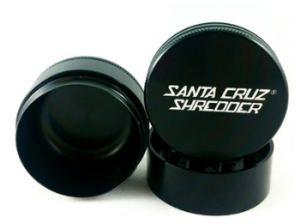 The next step up in grinder technology is a 3-piece grinder. Santa Cruz is one of the top dry herb grinder companies and any purchase from them is guaranteed to last a long time while consistently providing a great dry herb grind. The 3-piece design allows you to store dry herb easier than a 2-piece grinder. With an amply sized, non-stick storage compartment that lets you grind enough dry herb for multiple sessions this is a great "prep and forget" tool. The grip on the outside of the Santa Cruz Shredder 3-Piece grinder has been improved on since the initial release and makes it easier than ever for your dry herb to be ground to perfection.
Santa Cruz combined elegant design with elite construction for their 3-piece grinder. Medical-grade anodized aluminum is a staple of Santa Cruz Shredder grinders. This high-quality finish eliminates any chance of scratching or cross-threading, the process of threads getting barbs and becoming unable to thread, which can effectively render your grinder useless. The unique tooth design of the Shredder sets their grind apart from lesser options; designed to cut multiple ways with enough clearance on both sides of the teeth to prevent "slicing" or "mashing" of your dry herb.
Groove 4-Piece Grinder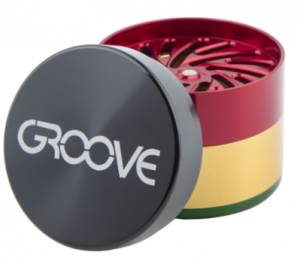 Pollen oriented dry herb users will love the Groove 4-Piece Grinder. In place of the traditional teeth most grinders have the Groove 4-Piece is equipped with razor-sharp grooves in the top section. These rotary shredders finely chop your material and drop it into the storage compartment while separating out any large unwanted pieces and make cleaning your grinder easier. Groove grinders are CNC machined from tough aluminum to give you years of dependable, uber-smooth grinding.
The Groove 4-Piece Grinder is a little larger than a 3-piece grinder but still portable. A powerful magnet holds the top in place to keep your dry herb safe from spillage during travels. The fine screen underneath the middle compartment effectively sifts and stores pollen from dry herb, allowing you to save your precious compounds for a more elevated than usual session. The bottom compartment is non-stick so collecting your crystals is easy.
CONCLUSION
Get your prep situation right for your next dry herb adventure. Any grinder, be it just a 2-piece or a larger 4-piece unit, will elevate your spoon pipe's performance. Aside from getting your dry herb in the perfect condition for smoking, grinders help conserve your supply by parceling out whole nugs into numerous sessions. Your spoon pipe will be able to fit more dry herb and operate at peak performance and avoid clogs thanks to whatever grinder you choose to snag.